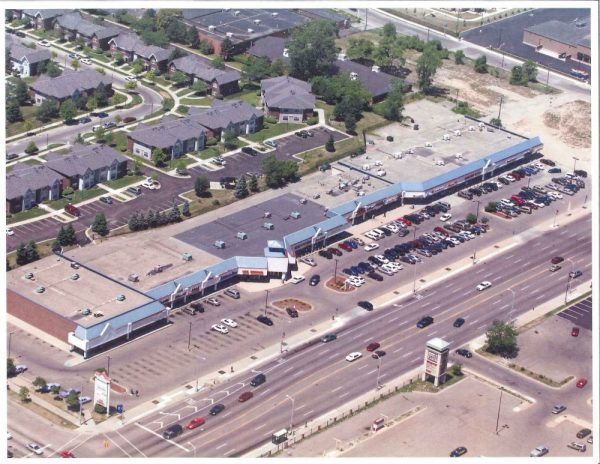 1992 was a rough year for the city of Highland Park, Michigan. Automotive giant Chrysler had relocated its headquarters from Highland Park to Auburn Hills, and the wake of the move, both the Highland Park Hospital and the Woodward Avenue Sears store permanently closed their respective doors. Not to mention Benjamin Atkins, also known as the Woodward Corridor Killer, who murdered eleven women along Woodward Avenue between December 1991 and his arrest in August 1992.
1992 was also the year that First Commercial Realty and Development Co. set its sights on a parcel of land located at the intersection of Woodward Avenue and Manchester Street.
In 1987, when Chrysler first announced that they would be relocating, they also announced what they would be leaving behind; a $6 million community development grant. HP Devco, a public-private developer focused on the redevelopment of the Highland Park community, was the recipient of that grant. HP Devco planned to use the grant to development retail and residential units on the parcel of land located at the northwest corner of Woodward Avenue and Manchester Street, and selected First Commercial Realty & Development to develop and build a 42,000 square-foot shopping center.
First Commercial secured a lease with the center's first, and anchor, tenant drugstore chain Perry Drugs in spring of 1993. Blockbuster Video signed a lease shortly after Perry Drugs, and tenants Subway Sandwiches, Dollar Daze and One Price Clothing Stores quickly followed.
Construction of Highland Park Place project commenced on June 9, 1993, and by winter approximately 70% of the retail space was completed and open for business. The Grand Opening of Highland Park Place took place on December 11, 1993, and was met with great excitement from members of local government and the community.
By the spring of 1994, the center was 100% occupied, and leasing a 150% of its originally budgeted rents. It was decided that due to the demand for more space, First Commercial would move forward with a 22,000 square-foot expansion, known as Highland Park Place Phase II.
Phase II broke ground in the spring of 1996, with construction of the 22,000 square foot expansion completed by the fall of that year. The completion of Phase II convinced grocery store chain A&P/Farmer Jack to relocate from 2nd Ave to the old Ford Model T plant property, spurring development of a grocery store-anchored shopping center. HP Devco purchased and cleared the old Sears building and the adjacent apartment building, leading to the development of a 40,000 square foot shopping center and housing units.
As of 2013, there is approximately 375,000 square feet of total retail within the immediate vicinity of the Woodward & Manchester intersection.